WOVE Legislative Update for
career and technical education
WOVE Legislative Update for CTE
PO Box 315 . Olympia WA 98507-0315
Tel: 360-786-9286 . Fax: 360-357-1491
Tim Knue: tim@wa-acte.org
WOVE LEGISLATIVE UPDATES FOR THE 2019 SESSION
WOVE Legislative Update for CTE | Final 2019 | 5-2-19
WOVE Legislative Update for CTE | Week 16 - Sine Die | 4-29-19
WOVE Legislative Update for CTE | Week 15 | 4-22-19
WOVE Legislative Update for CTE | Week 14 | 4-15-19
WOVE Legislative Update for CTE | Week 13 | 4-8-19
WOVE Legislative Update for CTE | Week 12 | 4-1-19
WOVE Legislative Update for CTE | Week 11 | 3-25-19
WOVE Legislative Update for CTE | Week 10 | 3-18-19
WOVE Legislative Update for CTE | Week 9 | 3-11-19
WOVE Legislative Update for CTE | Week 8 | 3-4-19
WOVE Legislative Update for CTE | Week 7 | 2-25-19
WOVE Legislative Update for CTE | Week 6 | 2-19-19
WOVE Legislative Update for CTE | Week 5 | 2-11-19
WOVE Legislative Update for CTE | Week 4 | 2-4-19
WOVE Legislative Update for CTE | Week 3 | 1-28-19
WOVE Legislative Update for CTE | Week 2 | 1-22-19

WOVE Legislative Update for CTE | Week 1 | 1-14-19

WOVE LEGISLATIVE UPDATES FOR THE 2018 SESSION
WOVE Legislative Update for CTE 3-19-18 | 2018 CTE Legislative Bills Budget

The session came to an end on-time Thursday, March 8 for the first time since 2014, "Sine Die." Throughout the session the Legislature certainly did what it took to get through key bills and issues at an unprecedented pace. This session was a fast pace with high volume and complexity of bills introduced. Washington ACTE list of bills this session (see March 9 update) that were adopted by the Legislature, (look for CTE-related bills in yellow highlights) as well as those that did not make it through the process. While the CTE FTE funding proviso language for a "correction" did not make it into the supplemental operating budget as a stand-alone, one-time proviso. Details of CTE -related items in the supplemental budget for CTE is listed in the attachment, my thanks to OSPI for the details. We will now reassess where we are and develop an interim plan to move forward in the best interest of all CTE programs. More in-depth details of the session can be found in the following end of session reports available under the Highlights - Newly Released section of the Legislative Information Center's web page: http://leg.wa.gov/LIC.

Bills Passed the 2018 Legislative Session
Summary of Legislation (Office of Program Research), 2018 Regular Session, Preliminary Report
2018 Number of Bills Introduced & Passed (DRAFT)
Legislative Session Dates 1889 - 2018

Legislative publications, such as the Summary of Legislation, and other Educational Materials, Maps, Guides and Rosters can be ordered using the LIC Order form, found at: http://licorders.leg.wa.gov/ProductList (click on the image to view the PDF version).
Each session of the legislature is having a greater impact on Career and Technical Education. It is extremely important that Career and Technical Education administrators and educators stay informed on issues and bills affecting Career and Technical Education.

The WOVE Office will once again be offering a subscription via an informative and timely Legislative Update. The purpose is to keep you informed of the issues, bills, and committees impacting Career and Technical Education in the state of Washington and at the federal level.

As you are aware, the Legislative Update is your link to current news from Olympia of importance to Career and Technical Education. And the Legislative Update lets you know of appropriate actions that you can take to affect the outcome of pending legislation. It is crucial that we all work together for a successful legislative session. We need you to be a part of the team, be informed, and ready to respond to issues in order to improve Career and Technical Education. The costs of the Legislative Update will be used, in part, to pay for expenses that are involved in producing an update on a weekly basis and legislative support. Complete the form to subscribe to the Legislative Update.

Thanks for all your support. Career and Technical Education administrators and educators are crucial to our legislative efforts, and we want to keep you as well informed as possible on key matters that are so crucial to the future of Career and Technical Education.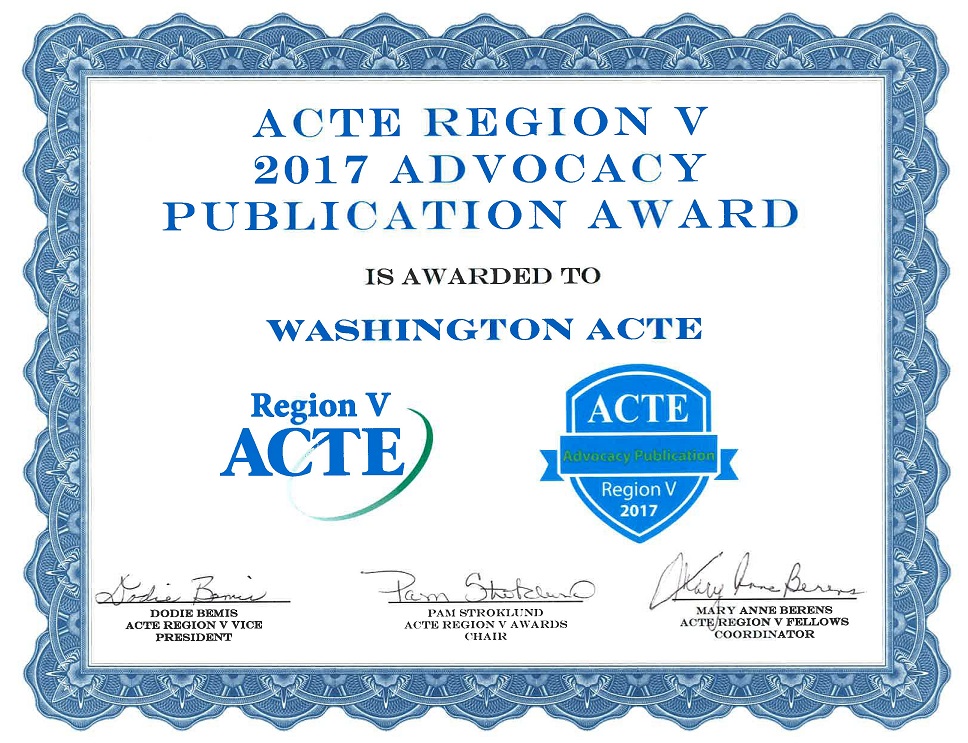 WOVE Legislative Update for CTE Wins ACTE Region V Advocacy Publication Award
WOVE LEGISLATIVE UPDATES FOR THE 2017 SESSION
SCHOOL DISTRICTS BY LEGISLATIVE DISTRICT & LEGISLATIVE DISTRICTS BY SCHOOL DISTRICT
Federal